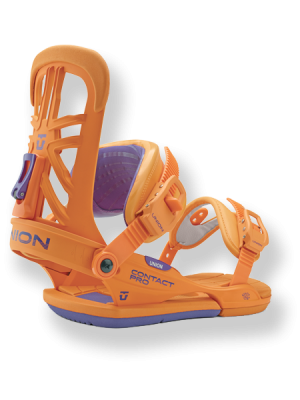 Contact Pro, flourescent orange - 14/15
Art.Nr.: 584-L/XL
Snowboardbindung Contact Pro von UNION

EUR 239,00
inkl. 19 % USt zzgl. Versandkosten
Bindungsgröße:
Versandfertig in 24 Stunden
"Connectivity. It is magic in its most genuine form. It is what we utilize to illuminate our lives as our contentment is deeply afected by the connections we establish with one another, mother nature, and the universe."
Alle Produkte von Union Bindings
Zur Hersteller Webseite
Produktbeschreibung
Snowboardbindung
Contact Pro
UNION

Designed and endorsed by Union Pro Rider Gigi Rüf, the Contact Pro has quickly become one of the most sought after bindings in the Union collection. With a nominal binding-to-board contact footprint and softer flex, it is the perfect tool for riders looking for total freedom and a surfy board feel.

Other models and sizes on request!

Binding Features:

MULTI DENSITY EVA BUSHING

Multizone Full Bottom Bushing System allows for natural canting and next level vibration dampening for season long foot comfort.

CONTACT PRO HIGHBACKS

Developed and tested by Gigi Rüf. Incredibly light, extremely comfortable, and outstanding in all types of snowboarding terrain.

3D DIRECT CONNECT STRAP SYSTEM

Multi-Layer Strap Core evenly distributes pressure across the top of the foot.